(rated 4 and 1/2 out of 5 paws)
Doggie No Slips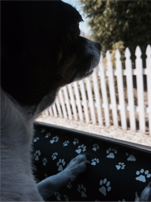 What is Doggie No Slips? It is a product made of a thin non-slip material to help your dog grip the side of the window while riding in a car, protecting your pet and the interior of your car at the same time.
I know when Ladybug rides in the car and stands up to look out the window, it isn't long before she has lost her grip and fallen down, luckily just a short distance to the seat. But since I have been using Doggie No Slips, she is able to stand up and have a better grip while she looks out the window.
The material is neoprene coated on the top with polyester on the back. It is industrial grade used for motor sports and in the military so it is real strong and long lasting. That may be all great and good, but I love the print and the texture! It comes in 3 colors – black with white paws; tan with black paws; and white with black paws to match any interior.
Doggie No Slips is easy to attach to the inside of your window. You just slide it down between the door and the window of your car. And when it's not in use, you can easily take it off and store it in your glove box.
Overall, I really like the product, however, I just had one small issue. It came apart. I believe it was originally glued together and perhaps the heat of the car affected the bonding agent, as I leave it on all of the time. But, it was an easy fix. Just a little bit of glue and it was as good as new.
While I don't condone your dog sticking their head out the window while traveling at a high rate of speed, I do it on short trips to the beach, less than a mile away, at approximately 25mph. It also great when you are stopped and your dog just wants to look out the window.
Reviewed By: Judy Francis and Animal Radio Stunt Dog Ladybug
[ Animal Radio was established in 2003 and is nationally syndicated.  It is America's most listened to pet talk radio show. ]
Reply By Doggie No Slips:
Thank you for taking the time to use and review Doggie No Slips. We have since upgraded our adhesive. It is now stable up to 220 degrees.